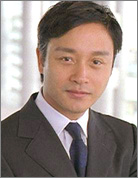 A series of promotional short films which call for public support in making Hong Kong a more film-friendly city. Six promotional films featuring Jackie Chan, Cecilia Cheung, Leslie Cheung, Stephen Chiao, Stephen Fung, Ann Hui, Michael Hui, Louis Koo, Tony Leung, Tsui Hark, Tung Wai and Cecilia Yip, will be screened on television and in cinemas starting July 23, 2001.
As part of the campaign, a roving exhibition will be staged at eight venues in Hong Kong Island, Kowloon and the New Territories between August and December. In November, the FSO will co-organise with the Hong Kong Film Directors' Guild a forum which will provide a channel for communication between the film industry and the community on matters of mutual concerns in relation to location filming. Publicity leaflets and posters are also available at the 18 district offices.
To minimise the various inconveniences that location filming activities may cause to the local community, the film industry has agreed among themselves to enhance their professionalism by being more self-disciplined when conducting location filming activities. As a first step, nine major film industry associations have now published "The Hong Kong Filmmakers Code of Practice" and agreed to abide by it.
(Special Thanks to Hong Kong Television and Entertainment Licensing Authority for providing LCIFC the film sample.)